Step 1: Add Your ClickBank Account(s)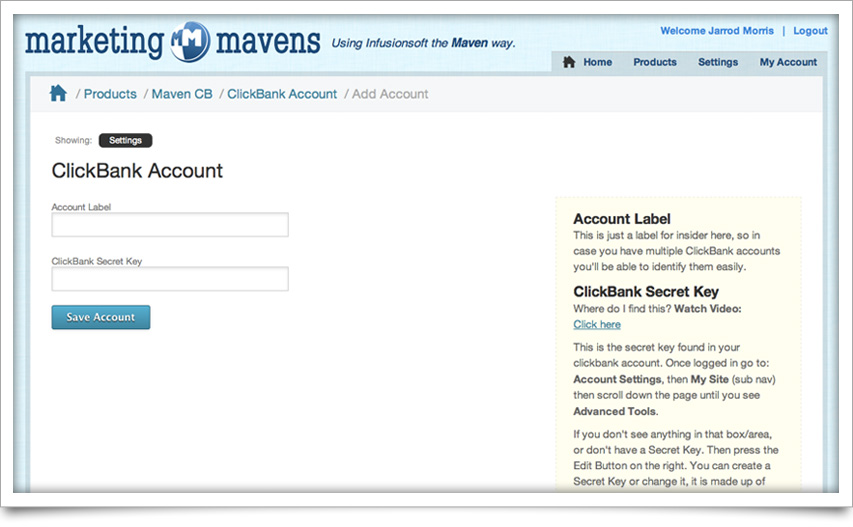 Step 2: Link Infusionsoft Products with ClickBank Products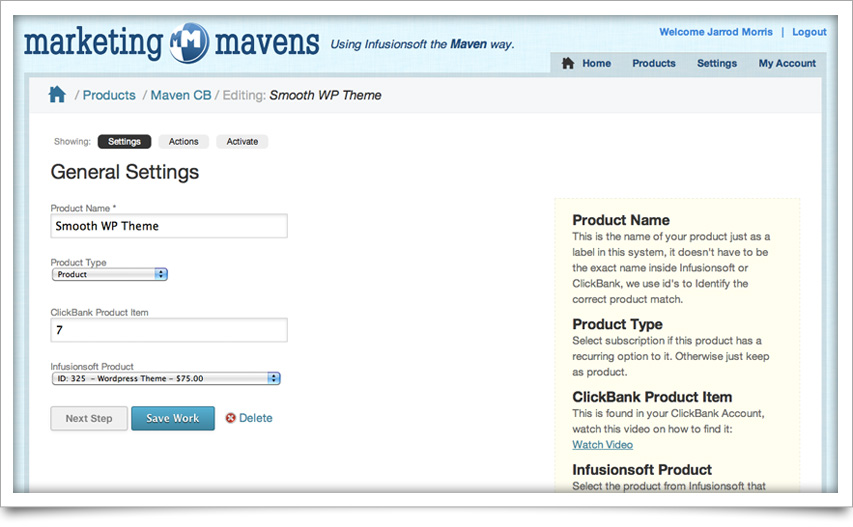 Step 3: Select Infusionsoft Action Sets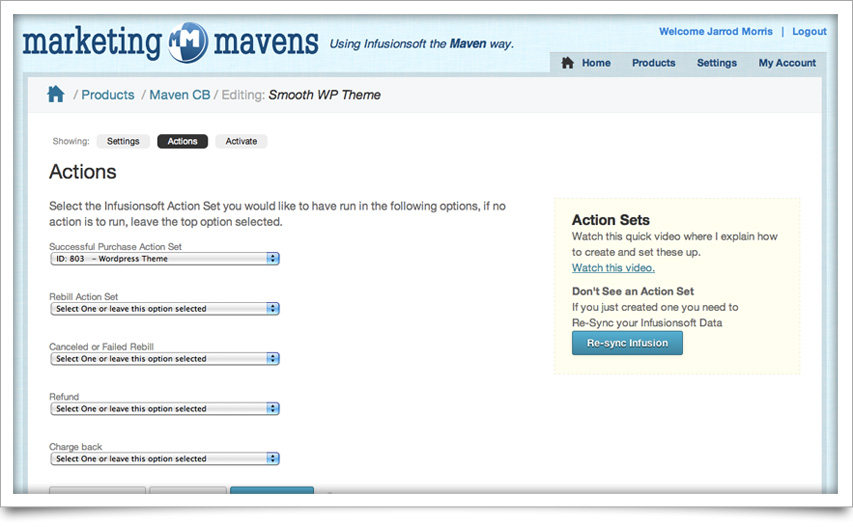 Step 4: Activate the Product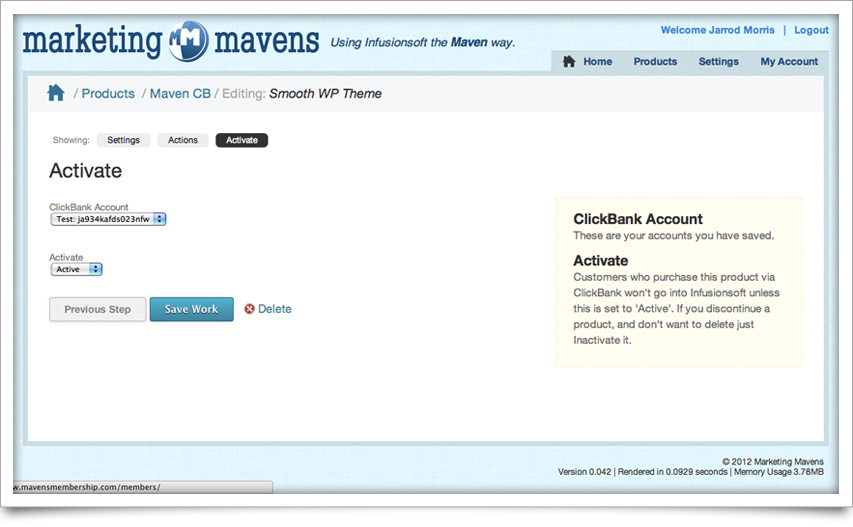 Maven CB pushes data from ClickBank to Infusionsoft and does the following:
Checks Infusionsoft to see if person record exists
Creates person record or updates existing person record
Adds contact data to person record
Adds Order/Invoice data to person record
Adds payment data to person record
Runs product specific actions sets
Maven CB allows you to trigger unique Infusionsoft Action Sets
for each of the following ClickBank Scenarios:
Successful Purchase (One-Time Fee or Initial Transaction in a Subscription)
Rebill (Recurring Transaction, Subscription or Pay Plan)
Canceled or Failed Rebill (After ClickBank has tried XXX times)
Refund (Customer requests return of funds via ClickBank)
Charge Back (Customer's bank/CC Company retrieves funds from vendor)
"I've used a lot of so-called 'plug-ins' or 'integrations' in the past. I've never found one to be as user-friendly as Maven CB. I was up and running with in minutes, and I even bought before you had published your how-to videos. It was just that easy. Maven CB does exactly what I need it to. Thanks again!"
David Sinick
The First 100 Members to use Maven CB will be locked into our introductory pricing for life.
The Maven Members Area
Ability to Link Unlimited ClickBank Accounts & Products (My Own)
Discounted Pricing for Life
Access to Training Videos
Free Plug-in Support
60-Day Money Back Guarantee

Frequently Asked Questions
What do I need to be able to use this plug-in?
The only thing you'll need is a ClickBank account and an Infusionsoft account. This plug-in will NOT work unless you have both.
How is the plug-in delivered?
Upon successful payment, we will instantly create an account for you to our members area where the plug-in is housed. You will receive an email with unique login credentials so you can configure and use Maven CB. This process should take place with in 2-3 minutes after your purchase.
What is the price and billing arrangement?
Your initial charge today will be $47. You will then be billed $47 per month for as long as you wish to use the plug-in.
How many accounts or products can I integrate.
You can integrate as many of YOUR ClickBank accounts and products with a single Infusionsoft application.
Will I be required to supply my Infusionsoft application name and API Key?
Yes.
Will I be required to supply my ClickBank Secret Key
Yes.
When I purchase, what should I look for on my credit card or bank statement?
Your credit card or bank statement will show a charge by ClickBank or CLKBANK*COM, rather than Marketing Mavens or
Maven CB, because ClickBank is handling the purchase.
What's the best way to contact you if I have questions or need help?
The best way to contact us regarding the Maven CB plug-in is to send us an email at: support@marketingmavens.com
>> I'D LIKE TO LEARN MORE ABOUT INFUSIONSOFT <<
Legal Notice: ClickBank(TM) is Copyrighted and owned by Keynetics Inc., a Delaware corporation. We are NOT associated with ClickBank/Keynetics Inc. in any way. All other Trademarks, Brand Names, Website Names and Links mentioned on this page are copyrighted by their respective owners. Development of this Tool is bona fide and the developer and distributor has no intention whatsoever to convey any idea affecting the reputation of any person or business enterprise. This Software, website and supported files are distributed with the understanding that we are not engaged in rendering technical, legal, accounting or other professional advice. If technical advice or other expert assistance is required, the services of a competent professional should be sought. We do not give any kind of guarantee about the accuracy of information provided. We respect your privacy. We assure you that your contact details entered for registration will not be forwarded to any third party. In no event will the developer or distributor be liable for any direct, indirect, incidental, consequential or other loss or damage arising out of the use of this Software by any person, regardless of whether or not informed of the possibility of damages in advance.